Jakob Samuel, singer and frontman of the nowadays sadly retired hard rock titans The Poodles is making a comeback with his brilliant new solo album, "CoExist". Your intrepid reporter freely admits being both nervous and a little starstruck. But Mr Samuel (real name Samuelsson) more or less instantly shows off why he is considered as one of the nicest rockstar Sweden has to offer.
After the usual niceties, I tell Jakob that I just prior to our recording realized that my collection of his discography is actually not complete at all and is lacking not one, not two but three records and that I didn´t even know of the existence of two of them. Before I even have time to press the record button, the ever so passionate Jakob (ex-The Poodles, ex-Midnight Sub, ex-Treasure Land, ex- Jekyll and Hyde etc) tells an anecdote from his career when I mention that the first time I probably saw his name was in connection with his time as a drummer in Talisman somewhere around 1991. We skip along the timeline, so almost instantly we jump a bit forward to his first band as a studio singer. He tells of his tenure with the band Jekyll and Hyde. We come in when Jakob vividly paints me a picture about how the creation of the band's second album, "Heavenly Creatures" came about.
-We came home from a working vacation in Rhodes and were in the middle of laying the foundation for what would become the band Jekyll and Hyde for real. Pontus Norgren (guitar; The Poodles, Hammerfall) had just joined, so we had both him and Markus Jidell (Avatarium), so the guitar playing on that release is spectacular. We were a band of brothers and that record became even better than we thought and hoped it would be. We alternated between playing gigs and recording in the studio like crazy. "Heavenly Creatures" is a really good record.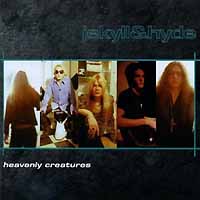 Well, having two of the Sweden's best guitarists on the same record sure doesn´t spoil things, Norgren and Jidell are awesome, both of them.
-They are and it was just a very good combination, the two of them together. I also made, speaking of the two of them, a record with a band called The Ring (Tales from Midgard, 2004) with these guys as well.
But for the love of Pete´s petrified pendulums, I just now realized that I must have known you before 1991! You were the drummer in Yale Bate who won Rock-SM 1988 (In 1982 Europe won the same nationwide competition)!
-That´s right! We started that band when we were really young. We won Rock-SM in the younger group/class, we competed against It´s Alive featuring the likes of Max Martin, Per Aldelheim and the whole gang, but they didn´t make the final, sadly enough. They were a lot older than we were, as well.
Hold your horses, there Buck! The competition was divided into two age groups?
-Yes! Up to 20 years was one and we won that.
How old were you then? 18-19?
– I was 19. We were all very young so we ended up in that group/class. It was a bit of a pity they had to divide the contestants up like that as we would have had a real chance to win the whole thing, not just our age group.
I must admit that Yale Bate kind of slipped under my radar. I do know for a fact that you released a single. Did you guys do an album?
-Yeah, we released a single called "Winds of Change" in 1987 and then a four-song EP in 1989, "On The Prowl" which has such a classic cover. It was Soffipropp (Swedish TV presenter Sofia Wistam) who shot the cover image. Johan Renborg (Stakka Bo, director of the HBO series Chernobyl) has used it when he has worked with advertising and will try to explain to people what a glam band looks like, hahaha!
Hahaha! A wild stab in the dark here; was it colorful?
-Yeah, like you wouldn´t believe! We looked like five members of Desperate Housewives!
Shoulder pads?
-The whole shebang, hahaha!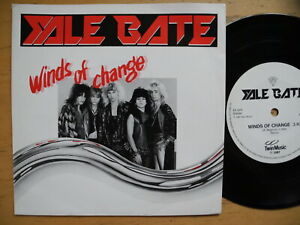 Jakob finishes laughing, gathers himself and continues.
– Anyway, we then released a full-length called "Business or Pleasure" in 1990 which came out on a company called City Records which was a subsidiary of Polar. By then I had just joined Talisman, who were my idols. I remember this one time when I was on my way to Yale Bates rehearsal room and stopped at Drottninggatan, it was the MTV era so they ran music videos, blasting the music straight out on the street and all of a sudden Yngwie Malmsteen's "I´ll See The Light Tonight" comes on and I remember I was completely blown away by just how good it was. Two years later I played in the same band as Jeff Scott Soto and Marcel Jacob. It was an absolutely incredible journey for me during those years (1990-1993).
It was so cool. Hempo Hildén (legendary drummer, Trash etc) also played at the Rock-SM and he thought my drumming was cool. He took me under the his wings and he is a very sweet guy. He opened some doors for me even though he got a little angry as he kind of wanted the Talisman gig himself. I got my foot in, I met Marre (Marcel Jacobs, bass and musical engine in Talisman, ex-Yngwie Malmsteens Rising Force) during the competition when he was there and watched. Those were really formative years.
That´s understandable. Did your heart flutter there a bit, like: Oh my God, it's Marcel Jacob, the super bass-player is watching me in the audience?
-Yeah, oh my God! There was palpitations all the time there. When you got to meet everyone and play with everyone, it was … Almost unreal. We did club gigs and all of a sudden Yngwie or John Norum would show up and would jump on stage and play some songs. It became a completely different … All of a sudden you played with your idols and it was a very special time. And a very good school even if it was unnecessarily harsh. Now, years and years afterwards, I can see that more clearly now. I mean, the whole band was so damn "damaged" by the competition mentality that prevailed back then. They had a pretty hard jargon amongst themselves and they were not very nice to each other. The guys in Yale Bate were a group of friends and even though we of course wanted to be really good and practiced like fools to be the best, we had a completely different approach to what was nice and so on. Both Marre and Yngwie were steeped in a very harsh environment from the beginning and you could tell.
Interesting to hear and that is very much in line with what I´ve heard others say, as well about the cliché surrounding Yngwie and Talisman. Like the thing that Yngwie recorded himself in the rehearsal room, went home and played the tape a few percent faster so he was forced to become even faster all the time and that an elitist thinking permeated the musical circles around him as well. Such an environment can be suffocating for some, stimulating for others. How did it work for you?
-When I was young and sat and practiced double bass drumming, I thought that for example Racer X was great and it was a bit of a competition and a bit competition every now and then can be fun but in the end it does not have much to do with music. A certain amount of technique is good, but it is just one side of the coin. Personally, I have always valued the craft itself, the songwriting as it is so incredibly important. I come from a childhood where my mother, who was one of the first female conductors in Sweden started the opera house Folkoperan in the seventies, my father was a priest in the Church of Sweden so there was a lot of sacral, church music surrounding me all the time. There was also a lot of classical music played at home, but I also had older brothers who educated me, as older brothers often do. They have had an incredible influence on me and played everything from Billy Joel to Supertramp, Styx and Mike Oldfield. Deep Purple, Led Zeppelin and Judas Priest and things like that came a little later. I have had a fairly broad musical upbringing.
A good thing you brought it up when I was just about to ask something similar. It feels like, purely from a musical standpoint that you paint using a very colorful and large palette. There is room for everything from something like Judas Priest's "Painkiller" screaming metal to soft, pensive melancholy. The range of your music is huge and above all, I think both as a listener and hobby musician myself that it is all the more interesting for it.
– Yes, exactly! I've always liked that kind of wide range. Sometimes it may seem like I´m not that, you know, focused as an artist, some people may think I'm too sprawling. But I've never been into one-dimensional stuff like Sabaton or Hammerfall, it's never been my style. I would not be doing this if I had to do things like that.
Interesting to hear your reflections on this.
– Well, back then I thought Tommy Lee was so cool and a good musician but I never liked Mötley Crue until later when they released "Dr. Feelgood ". I still listened to Deep Purple and had a completely different melodic requirement but I learned to love Mötley Crue but I come from a completely different world, I was never into this metal thing … I came first from the melodic side and then I got into hard rock.
Maybe that´s a good thing though? Coming from another part of the music world, what do you think?
– Totally! For me it has been a pre-requisite, so it has been quite simple and we are all different as well. At the same time, when hard rock became too much of a campy melody extravaganza both in song structures and… it became so streamlined and it was so incredibly melodic, I must admit I sort of got fed up a bit. So I also have thing that… Music must not be too polished but at the same time it is so important with melodies. I need both the sweet and the sour, if you get my drift? And it is important that it is "for real". Good melodies, good lyrics and good craftsmanship performance wise.
That relates to an issue that I have thought about a lot in that I know you as an artist and most of all the records you did with The Poodles. You're basically a drummer to begin with. What mainly triggers the songwriter in you, rhythm or melody?
– It differs. One time it´s a melody, the other a rhythm. It varies so much. Yesterday I recorded a riff that I just sang rhythmically into the phone just to remember it. Some claim that "a good melody / riff is remembered!". But for me, it's total bullshit. I've had so much good stuff like… If I do not record it, I do not remember it, it's that simple. I always have to record my ideas as soon as I can. But just as often I only record a beat or a melody loop or write down a song phrase, a one-liner when I watch a movie in case someone says something cool. I can heartily recommend that if you get stuck as a lyricist to watch an episode of House of Cards or Billions for instance.
"House of Cards" has even given the name to one of The Poodles' best songs. I was completely floored when I heard the first time. Holy crap, what a masterpiece!
-Oh, that is delightful to hear! Wonderful, I love that song! It´s a song that started with just a riff. We played somewhere in Sweden during summer in an open air festival. Henrik Berggren (Prins Svart, guitarist) and I sat backstage and then I sang that riff for him and we said that "we have to do something with this!". So we went and sat on a lawn with a guitar and jammed out the riff and from there we kept building the song and finished it later together with Jonas Reingold (The Flower Kings, Karmakanic, Midnight Sun).
I thought we´d reconnect to why we are here talking today and it is to discuss your new solo album "CoExist". So to start things off in the most cliche´ way possible, let´s go for a typical sports question: Jakob Samuelsson, how does it feel to have a new album out?
– Hahaha! It's damn nice, I've been working on this record from time to time for the last two years but even before that we started making demos of songs, writing, arranging and so in parallel with everything else I was doing back then. We discontinued The Poodles in  2018 and then I ventured into this solo thing, but also started a new band, Cloud Cirkus (more on these later, note) so I have worked incredibly hard with these songs. It is firstof all a new collaboration with Samuel Waermo and it has been an incredible joy to work with him, purely artisticly speaking. He is so damn talented and a guy who really fits my way of working and also fits my mood incredibly well! And the result is, in my opinion, very, very good!
Jakob's voice almost vibrates with enthusiasm and you can clearly hear how much this record and the process around it means to him.
– It has also been fantastic to work with Stefan Glaumann who has mixed the record as well. He is a legend to me and he has made records that have meant so much to so many and he has produced what this record really needs. I have felt that I have been able to work at the highest artistic level and it´s been so nice to be able to rest in it, the knowledge that this will be really damn good.
And this brings us back to your breadth as an artist, the musical span that you embrace. Take "Blame it on Love" for example, which sounds as if Chicago's seventies jams with Aerosmith. It has got a fierce groove to it!
– Ah, that is great to hear!
And as I wrote in my review, you even bettered Def Leppard's "Hysteria" which had no less than seven singles from the same album, you have released eight so far and could easily release the two remaining tracks as well, they are that good. So here´s my question; have you had to use the concept of "killing your darlings" during the making of the album?
-Well… In general, it works like this: before each record with ten to twelve songs, I write at least twice as many, sometimes up to 30 songs. And then the process is not that you have a verse and a chorus and then simply go and record it. Far from it, the song is constantly changed with different options tried and changes are made and its restructured. But of course, sometimes you write something that works straight away that you do not change at all, but usually if you work in a collective as I did with Samuel, we test different things, what feels best in terms of songwriting and craftsmanship. We have not really been that self-conscious… how should I say? We have not put our finger in the air and aimed for all songs to be hits because if you do, you´re in the wrong type of work, the wrong genre, especially right now. But I have always wanted to feel that your own music compass is always involved in everything you do. That what you make will be as cool and good as it possibly can. The yardstick has always been that you want to make good music.
A good song is a good song, regardless of genre as long as it is well performed.
-Exactly! And the important thing is that it is real and sincere and performs in a way where people love what they do.
You´ve been doing this for quite some time but you really had your break when The Poodles participated in the Melodifestivalen 2006 and won an extremely honorable fourth place with "Night of Passion".
– That song really changed my life overnight. Matti Alfonzetti (Jagged Edge, Skintrade) and Johan Leander who produced and co-wrote the song … Johan Leander and I are like brothers. We have any number of projects all the time, we found each other immediately. I had never met him before but we met through through Matti who called me and played the song. I´m just so, so grateful he did! Matti said; "Listen, Jakob, I'm writing a song with Johan and some others, could you give it a listen? And maybe sing it?". Alfonzetti is one of my old idols and I had worked with him as a drummer when he sang in Talisman for a period and I have the greatest respect for him. He wanted me to sing on it anyway so I came to the studio and the first time I heard it I just instinctively felt that this is just so right!
(8) The POODLES ¤ Night Of Passion (Melodifestivalen 2006) – YouTube
I went home to my studio, to my basement in the house in Hägersten. All my friends were on tour. Markus Jidell was on a European tour with the Danish band he played with then, Royal Hunt, Pontus Norgren was on tour with Thin Lizzy as sound engineer, Pontus Egberg was out on tour as well, everyone in my musical sphere was out on the roads and I was just sat at home and did not have a gig. Not one! And I know I was thinking "wait a minute here now, I KNOW that I'm a damn good singer!" and I knew I was a good performer and I had done so much, Jekyll and Hyde, Midnight Sun, Treasure Land and all that. Why could I not get a break for? What the actual hell, hahaha!
Jakob laughs and continues.
– And then this happened, Matti came up with this song. I sat at home and worked, wrote and did things on my own but had no given situation. And I wanted to take hard rock in a different direction. I have always liked when two worlds collide, you have a cool and hard packaging with a good attitude and well performed and at the same time the songwriting and the production itself should feel a bit fresh and new. That you get new collisions of genres and with "Night of Passion" I could visualize it right away that we couln make something really good with what we had on hand! I played drums on the song and we worked in the studio with it, I re-wrote the lyrics a bit. And when it was ready, unbeknownst to me, "Night of Passion" went straight to the Melodifestivalen, so Matti called and said: "You know we made the cut, right?" Hahaha! "What?" I said, had no idea and then it things moved quickly.
So, was The Poodles lined up to do it from the get go?
-No! I said that I´d been doing the band thing for 15 years and that I wanted to do this as a solo artist. I did not want a fixed band, a fixed position. But then the record company told me that there were only solo artists in the competition and that we would really stand out. So the order from above was: put together a band! So then I did, it after a lot of ifs and buts. I asked Kicken (Christian Lundqvist, drums) and a number of guitarists and bassists of which Pontus Egberg (bass, ex- Lion´s Share, King Diamond) and Pontus Norgren finally lined up (guitar) but everyone asked groaned something along the lines of: "Melodifestivalen? Nah, that´s not my thing. It does not feel quite right!".
So I asked them: "But you do like the song?!"
"Yeah, the song´s great!"
"And you like me as a singer?!"
"Of course, you are awesome, we have worked together for ten years!"
"Well, then what's the problem? We get to do it on prime time and we get to do it our way."
How long did it take from the time you had the band gathered to the actual contest?
– We got the all clear in November that the song did qualify and in January it was time to rock so it was an intense period. During this time we also did the writing and recording  for what became our first album, "Metal Will Stand Tall". It was Johan, me and Matti who wrote most of the first album and I had written some stuff with Jonas Reingold so I started the whole songwriting workshop, hahaha! The whole thing came as a gift from above, a blessing. The Poodles came along at just the right time, both artistically and on a personal level.
The Poodles were part of one of the last generations of bands/artists that actually sold a lot of physical records. The "Night of Passion" single sold platinum in Sweden and your full length albums all sold extremely well.
– Had Lordi not won the same year, we could have gone through the roof, popularity- and saleswise. You could find our album at all the gas stations around the country, in most of department stores, record stores. There we were at the front of the cd-rack, next to Lordi and when the kids wanted to buy records, their parents only allowed them to buy one. Lordi had cool masks and outfits and good songs so we clearly competed against each other. They have said the same thing about us, it is clear that we were competitors. That The Poodles did so well was both positive and negative for them. We both broke out of the genre, at the same time.
When did you feel that the listeners focused more on singles instead of albums and that the average listener no longer buy physical records in the same way anymore? Yes, it must be said that the two genres that still sell well with physical media are swedish dance bands and hard rock. When did you feel that; "why does it not roll on as before?". Because it was not the case that The Poodle's albums got worse as time went by, rather the opposite in my humble opinion.
– Glad you said it because it's exactly how I feel too! I almost think we got better and better. It had its charm in the beginning when our records were a bit messy and the songwriting was all over the place. As a song writer you develop and it was almost like we were a whole other band by the end of our run. But the ambitions only got higher as time went by and the craft only got better and better. I worked my ass off with all that material and I really loved it! When I'm not on stage, that's what I prefer to do, it's writing songs.
Take a song like "House of Cards", for instance, it is actually very progressive. It is exciting, daring, it takes musical steps that despite its leaps and bounds feels so natural.
-Absolutely!
(8) The Poodles – House Of Cards (Official Audio) – YouTube
Therefore, it feels quite fitting that your new collective Cloud Cirkus is a progressive, heavy, earthy rock band that has its roots in Deep Purple and the progressive rock of the seventies. How did this band come about?
– Johan Leander (Blacknuss, Carola Häggkvist, Ulf Lundell) and I have kept in touch, we have written for various The Poodles records and also for my solo album, "Pastpresent" which was released on Sony in 2012. He and I have always hung out, both musically and privately. Martin Jonsson who plays with Johan in Blacknuss joined some of my sologigs together with Jarmo Lindell and the whole gang. The only one I did not meet was Mattias Wenge, the guitarist. I was at the pub, checking out Jonas Gardell and we were all in the audience and then Martin Jonsson came up with a proposal to form a band. It's typical that, when you´re at the pub and form a band, hahaha! But after some thinking, I began to be attracted by the thought. But how would it sound? So then I started … I had a period when I sat working away in the studio and made a draft, like "budapadum, budapadum …" (Jakob sings the main riff to "You of All People") and then I wrote the verse and chorus but on purpose left some room in the song for the others to make contributions too.
(8) Cloud Cirkus – You Of All People (Official video) – YouTube
I remember so well when I called Johan, I sat in the car and said; "Hey, I think I wrote a song for our band". I have such mad respect for him, both as a musician and as a human being so I was a little nervous to play it, hahaha! I put the song on in the car and played it over the phone for him, with him saying, "Play it again!" so I did. He wanted me to send it to him immediately. So he listened to it, we checked some key changes and I think I did some additional stuff but then we decided that we do not finish everything. The thing with this band is that much should take place in the rehearsal room, everyone contributes  and it will be what it will be.
The music grows organically.
– Well, exactly! So even though I have written "You of All People", I have only taken 50% of the rights and the others get to share the rest because we are such a band. Everyone contributes so much, both with their playing but also with whimsy, with changes, new arrangements, with solo parts and everything.
What strikes me when I listen to the two songs you released (the other is called "On my Watch"), I have played them a bunch of times and the feeling that is overwhelming: it sounds like you have so much fun when you play!
– Hahaha, it's actually like that, that´s because we do have a lot of fun!
(8) Cloud Cirkus, On My Watch (Official Video) full length. – YouTube
Without exaggerating too much, it sounds like every single one of you is giddy with exitement and are raring to go!
-Exactly so! These guys play in all possible genres and are incredible, quality musicians, but it is quite rare for them to play so freely, completely from the heart and that was the main idea with Cloud Circus, we will do exactly what we want! "If you like it, God bless you, if you do not, get out!" as well as. No worried record company A&R who is worried about "I do not see the customer in this" but it is really straight from the heart. Everyone is soo driven musically speaking and the atmosphere in the band is incredibly permissive. We give energy to each other in that process and that is what we all love and appreciate so much. I just got four more mixes sent to me that sound absolutely fantastic!
Speaking of which, when will the record be released?
– Haha, the thing is ….
You have no date?
-We have no date and we also have no direct plan. We do not know if we will release it ourselves or if we should get a record company to back us. So that door is completely open but we are considering just releasing more singles and letting things grow steadily. We want to go out and play and then you have to have material to present. The two songs you heard plus six more songs, we went down to Gotland last summer and recorded for a week. We could just relax and hang out. Everyone is so busy all the time so it took six months of planning to get us all in place, hahaha! So we booked the trip, packed the car with instruments, good food, beer and wine and then we drove down there and just played music for a week. We wanted a lot of first takes on the record so we did not over rehearse the songs in the pre-production stage, as we wanted that loose feeling. We wanted that fresh energy when we played through the songs together because you get a special "Holy shit, this sounds amazing!" – feeling where everyone just feeds on the energy and that´s why it sounds like that.
That's the funny thing, you can totally hear that! You have really brought it out in the production as well.
– That's wonderful to hear! That was the ambition. It is not easy and it presupposes that you have such a clear plan with the sound. Many of those classic seventies bands that made up to three records a year, they alternated between the tourring and recording and that´s when it comes naturally, that raw energy. They did not rehearse a song in the same way, there was no time to do that. They had not really set things in stone in the songs and just played from the heart. I think that the conditions for it to be a spontaneous and honest, must be there and then you can´t rehearse the songs to death.
Great to hear that you talk with such passion about the creative process! On the other hand, "CoExist" … and get me right here, it has some very creative songs with a wide range but those songs are three minutes with just all unnecessary content trimmed away, they are optimized and work so incredibly well in such a form but there you have the other side of the songwriter coin. Where Cloud Circus songs can be seven to eight minutes long, filled with Deep Purple-ish raw sponaniety, the songs on the solo album are so much tighter in their form. And now I will not ask the question of which way you prefer because …
Jakob takes the words from my mouth:
– You can like both, I am a living example of that! They are almost the diametrical opposite of each other, both sides of the coin. You can do both ways and for me it has worked a lot like … I have needed both ways to write to feel good musically. At my release party the other day, I did it with a band called Groovy Social who is a houseband at a restaurant in Stockholm that are just amazing. They are a jam band, we had barely rehearsed these songs at all but these are musicians at such a high level that they managed it anyway. They knew the songs in one go and it was almost like being at a jazz concert. They started, I came in, they extended the solos and then we finished the song after one last chorus. It was so cool! Samuel Waermo who was the producer and musical captain on the solo record was there that night and he thought it was wonderful that the songs worked in those kind of stripped down arrangements.
(8) Jakob Samuel – One Last Time – YouTube
When I will play the record, I think it will be some kind of hybrid when it comes to performance, both rock and acoustic. I will probably present it as I was the musical nestor from The Poodles as well. I like that thinking, you go on stage and it just explodes! But also that there is a theme, that the songs are connected and that there is an interlude that transitions to something else. That it will be a show, quite simply. That it's a journey that is connected, I like that thing. And it's best on a big stage, but if you go to a club gig, it can be presented in a different way.
More intimate?
– Yes! So there are two completely different forms of expression, big stage or club stage, but it's so fascinating how different songs can sound in different designs, completely depending on how you present them.
There you have it once more, that if you have a good song, it works regardless if you have a full rock band backing or if you (God forbid!) sit all by your lonesome with a banjo.
– Exactly.
The world has been at a standstill for a year and a half. What are your plans? Are you going to do a solotour, do something with Cloud Cirkus or do you have something else going on?
 – Absolutely, I am looking into things for where you can take out the solo record live, there are a lot of costs having a band with you and everything around it, but there are absolute prerequisites for it. If the record gets the attention it needs and if I find a promoter that I want to work with. In any case, we´ll see. Cloud Cirkus will definitely play live pretty soon. We are eager to get out and play. Then I do … I have the advantageous position that I am a bit of a mainstream artist in Sweden so I work again with Jessica Andersson in a Christmas show, this year in Gothenburg. We do some different things together. And then I work with Rhapsody in Rock and Robert Wells, I worked with Ulf Adenbrandt and Jönköping Symphony Orchestra so I have stuff like that as well too, which is a good to fall back on because it makes me able to make a living.
That brings me to the next question. You have an incredible width in your artistry, you have sung "Child in Time" with Jon Lord …
-I actually worked with him for three years!
(8) Jon Lord Live in Sofia – Child in Time, 30 October 2010 – YouTube
Wow! Is there anything that you feel you want to try out that you have yet to do? Doing a musical, dubbing animated movies etc?
– There so much I wanna try! To be able to do Jesus Christ Superstar would be awesome! Or Les Miserables! What I would really like to do is learn more acting. Right now I'm going to a class … I'm a sailor and I'm presently educating myself to become a archipelago captain this autumn, but musically there are a hundred things I want to do and people I want to work with. Above all, I want to launch my solo career on a good level. That it really becomes a thing that people can go and see live. I really want to do that both in Sweden and in Europe. The record is also released in Japan so it feels promising and good. These two projects that I am working on now are close to my heart and that is what I will put my time and energy into. But since I'm in the situation I'm in, I'm not tied to anything. With The Poodles, I was quite limited to just working within that machinery. There are interesting inquiries all the time if I´d want to do stuff as a singer and the like, from people you want to work with so it's quite an open field at the moment, which I really enjoy. I do not have a ten-year plan, but I have a two-year plan anyway.
I´d thought I´d ask some questions about your voice. It is not only one of the country's foremost but also one of the world's most versatile voices. When did you discover that you could sing?
– Oh, thank you for that! My big brother, Jonas Närbe-Samuelsson had a hard rock band when I was 13-14 years old and he was my big idol then. By then I had just made some awkward attempts to sing but you know what it's like when you are 14 and your voice changes, it's damn hard to sound like David Coverdale, hahaha! Around the age of 20, when I recorded demos with friends and there were no one around t sing, I made a few attempts. In the studio it sounded pretty good and I felt that there might be something here. But then when I sang live I totally shot my voice as I hadn´t anything resembling vocal technique. So it was around this time that I discovered that I could sing but at the same time I had a really cool gig doing drums for Talisman so no one understood anything when I put away my sticks and started singing. Especially the ones I played with thought I was out of my mind.
In many ways, it was like starting over. But I felt this was what I was going to do. I did my first live stuff with Pete Blakk (ex-King Diamond) and his Blakk Totem and then I continued with a summer in Malmö with Bad Habit. And after that, it started to grow more and more. I started Snakes in Paradise and then Jekyll and Hyde came about and it was then and there that I cut the umbilical cord to my former life as a drummer.
You mentioned technoque. You have a huge range. When did you discover that you could go higher than…
– What is customary? Hahaha!
 Exactly! Hehe! Did it come naturally, by itself or is it something that you have learned from  a vocal coach?
– I spent time in my room and sang along to various songs and …
Jakob pauses and thinks for a moment.
– I have always loved the old school singers like David Coverdale, Ronnie James Dio, Robert Plant but I had also started to discover newer bands like Queensryche and Iron Maiden.
The heavy metal tenors!
– Yes, they had singers who had a very high pitch and I thought that was very cool for a period. I´m trying to use my entire register as I can get tired of singers who only sing in what is almost a female register. What was so cool with Ronnie James Dio for example, you never thought he sang in his upper register because he had such a "full range", full voice.
Same with David Coverdale, as he basically has a bass voice.
– Exactly, both are some kind of baritone tenors with a fantastic bassy bottom. But to return to the question so purely technically, I told my brother who heard me when I had done some demos with Bad Habit, I was probably around 20 years old… He had just started singing classical at the conservatory in Vienna so I said to him that I should take singing lessons. He said straight away: "No! You should not take a single singing lesson. You have really good singing technique and it sounds SO. FUCKING. GOOD! You should just keep working. If you have problems later on, you can look into that but as the situation is now then you should just sing and not let any singing teacher fuck up anything in your sound. You should just work on it! "
I have myself, purely on a hobby basis, sung in bands and different projects. I'm completely crap, but I have at least an inkling of insight into how it is possible to get certain sounds out of ones pizza masticator. But something that struck me about your voice is that you, unlike many other singers, lack the void between your full voice and your falsetto. Personally, I simply don´t have a bunch of notes on my vocal cords as my vocals cords won´t cooperate. Is it something you practiced or is it something you have been blessed with?
  – No … It's something I have worked purposefully towards and I think most singers do. To get that mixed voice and you become more or less good at it, to find the right technique to do it. But when I sing "Child in Time", it has nothing to do with falsetto at all, volume is the thing for me though. You have to go all guns blazing to be able to hit those notes. And you can hear that with (Ian) Gillan, he has to give his all and at the time he wasn´t getting by on skimmed milk, if you get my drift and he smoked like there was no tomorrow too so… There´s a myriad of reasons his voice hasn´t held up. But it can also be related to ones anatomy. It is a technique that is more or less gentle on the voice. If you listen to a singer like Dan McCaffery in Nazareth who sounds like he swallowed a box of barbed wire but still has such a technique that helps him deliver the goods.
 And it was not raspberry pop he used to drink either and he smoked like a volcano as far as I know.
 – Yes, it's unbelievable!
 It's been over 25 years since you made your album debut and you have both released records and toured extensively. Your voice still sounds, if the expression is allowed, as youthful and fresh as it did a quarter of a decade ago. How have you kept your voice in shape?
 – I have worked very hard. I often get this question, I worked with Malena Erman (famous Swedish operasonger and ESC-winner) a few years ago on "Lotta på Liseberg" for TV4 and she is self-taught as well. She did not attend her singing lessons at the conservatory. She taught herself and had her own technique. She has worked with lots of singers and male tenors and she has said that she does not understand how I do it and that she has never heard anyone sing the way I do. But I had a basic technique that I have tried to develop and keep intact. And I have tried to avoid singing if I feel like my throat is hurting. But if you are on tour, you just have to do it anyway. One contributing factor is that I have always been in pretty good physical shape and I´m not saying that I have not partied over the years because I have had my fair share of partying. But I have probably also been blessed with good anatomy and I know that it does not have to last forever. Then I also have a technique that suits my singing style very well and it can feel like doing elite sports and that is it, in a way. I have a bit of a hard time explaining this … because I would love to give some advice as there are quite a few singers who has asked me over the years but it is more of a feeling in my body, how it should feel when you sing than any technique that I can explain in a sensible way. But my advice is always: sing often, sing a lot, both in the rehearsal room and record what you´re doing and also listen to other singers and analyze what they do. I Think it was Chris Cornell who said in an interview, he often got the same question, his advice was: "imitate your idols, as much as you can! Check out how they do to sound like they do. Work with different techniques". It's like a guitarist learning to play "Black Star" (Yngwie Malmsteen), you learn by both watching and listening. By doing so and trying to hear how the vibrato is and how you intonate, where you are physically in your throat doing different styles and ways of singing.
Yngwie famously said "Play with your ears". Hahaha!
Jakob laughs heartily.
– Yes, but he´s right. He's absolutely right. And I like Cornell's tips on imitating his idols.
 So in other words, starting out standing in front of the mirror, singing along to "Aces High" should not be sneered at ?
– Not in the slightest! That's where it all begins!
 Jakob, I could talk to you for another three hours and you would get so damn tired of me so I think we should wrap this up!
– Hahaha! I don´t think I would actually!
It was a real pleasure having a chat! Good luck with the new record now!
– Thank you, Martin! Thanks for the support! See ya!