As December shows its darkest period I sat down with Jason Bieler for a chat about his latest adventures and his time in music business
The guest musicians first off. I am impressed: From Benji (Skindred) to Devin Townsend to Jeff Scott Soto

I started calling everybody up when I started recording in March, I just assumed they were on schedule recording. Touring was slowing down. But 4 or 5 guys would say yes and you don't get luckier than that.
I heard a Radio Interview That you are planning a follow up already?

I wanna start writing the next record. I figured touring will start up end of summer or fall so I have another 6 months of making records. So I try to take advantage of the situation.

So depending on schedules (whether there will be a second album) there are so many more people that I am fortune enough to have become socially and friends with and seem to be open for it so its awesome.
Do you prefer Studio work or Live appearances?

I love working in the studio and totally happy doing that. But there is nothing like taking it live and getting the energy reaction from a crowd and being in front of people. When you get that feedback from them into the songs and they know the songs. But I am happy doing both.
Any Chance of a Livestream?

Everybody's gotta do what they want to do, for me it feels kind of one dimensional and not exciting, especially because I think this has been kind of my official solo record. I don't want the first example of that to be some kind of bad Facebook audio not synced up kind of thing.
Touring plans?

Everything is fluid right now, hopefully the vaccine will start making its way around the world and I hope we start get back to some version of normal late next year. First and foremost, everyone gotta be safe. No one is going to enjoy a show when they hear someone sneezing around you. There is so much news on the medical front happening. The first vaccine just came out.
But that will be my plan. But as I said, I will start record the next record and see what's happening either way when it safe and possible.
The Swedish Connection?

Sweden is such a special place for me. My first professional job was with Marcel Jacobs in Talisman when I was like 18 or 19, then I did two Saigon Kick records there (recorded in Solna), I spent about a year in Sweden, including 2-3 months of touring with Talisman. I get to tour like everywhere in Sweden, places Americans never get to hear about. Normally its Stockholm and Gothenburg, but we did places like Luleå.
Talisman years?

Being schooled by Jeff Scott Soto and Marcel Jacob on how things work was an eye opening experience. Because of the Rising Force records those two were just as big as they can be, so get to play in a band with them had a massive impact on me.
I spent so much time in sweden try to pick up the language and everyone spoke English. Everyone was so polite talking English, even when being in a restaurant everybody wind up speaking English even when they were conversing with each other just to not make me feel awkward. It was wonderfully kind except that I only could order at McDonalds but that doesn't help much.
I remember the polite words in Swedish and counting a bit but mostly not a lot of useful stuff though.

This was just wonderful times in life where you don't have bills and like no expenses. Jakob Samuel was on drums in the band back then, he's a great guy, a maniac in the good way. So we were learning the art form of drinking too much and getting in all kinds of trouble while Jeff and Marcel were kind of frowning at us all the time, so me and Jakob we were the kids in the Talisman family so to speak but in a good way.
Being Signed To Frontiers Records?

I am aware of what Frontiers does and has done and they have had success of a certain style of music and I was speaking to Nick Tieder at Frontiers Records who said "we should do something together" and I was like "You do know the kind of the records and things I do is not normally in your wheelhouse", but he was more like "We are spreading out and doing a lot of different stuff" and we got together and signed the deal. They were wonderful, the first note they heard from this record was when it was mastered and done. I'm at this point where I am not interested in a labels creative contributions to what I do. I kind of wanna do what I wanna do and sometimes its a good thing sometimes its a bad thing, I just had a very clear idea of what and how I wanted to make it so I was hoping we were not getting into a situation where there was going to be a lot of pushing around.
But they were super supporting all the way through so I could not be happier than with the start of the relationship so far.
Frontiers have been known for putting projects together. I feel that your album is kind of a project but not in a "Frontiers Records" project kind of style.
Even In the Saigon Kick days, we were known for a ballad that became a success, in the beginning of our career we toured with Ramones, Faith No More and Ozzy so we always had kind of a diverse, I always played in my own playground, kind of put the toys that I wanted to have in there. Especially earlier in my career I think it threw a lot of people because back then I think more people were more like I am into the ballad, or I am into Punk, or I am into metal and nothing should ever cross. And now people are like into Skrillex, Messhuggah and Taylor Swift. People are much more open to just listen to music they like, I don't think people are segmented as they were so I think my record make more sense now than it ever done before
Being a "metal head"?
The world is better now. In the 90s you would only listen to metal if you were a metal head. Now you can listen to a broad variety of music and still be a metalhead
I have always been that way. I look at music the same way I kind of look at movies. Its great to watch a horror movie, documentary, romantic comedy or Monty Python. I wouldn't just wanna sit down and watch 100 horror movies. Sometimes it used to be like that with music.
Especially younger kids, I think they don't realize that AC/DC is in their 70s, its just cool tunes.
Your New Album might not have been the heaviest you have done. But was it the funniest one to do?

Its kind of a representation of where I am right now mentally and all these influences. If you would see my playlist right now you probably think I would be in a mental institution. I listen to Captain And Tenile, Meshuggah, Gojira, Tom Waits, Bjork and, whatever, I mean I listen to so much music.. John Coltrane and Miles Davies to XTC, I can go on and on and on about it. It all gets thrown in to this mental blender of mine and it comes out. I always hated whenever a band says or press quote says "This is our heaviest record to date". I'm like Fuck off! Is it your best record to date or most proud of it? Did you stretch yourself creatively? That's what's important to me. I didn't set out to make it heavier or light. Its relatively fresh and I feel I pushed a lot of ground and covered a lot of cool stuff. I am super proud of what we did. I mean, I guess the big senses of pride I get is that I made a kind of record or environment that Clay Cook from Zac Brown Band can be on the same record that Devin Townsend, that is so cool.
Speaking of Musical Directions is it the age and as you grow older that you broaden your horizons musically?

I have always been that way, even when I played with Marcel and those guys early on, I loved what they were doing what was more power pop metal or whatever you wanna call it. The Bon Jovi-esque kind of rock stuff that was great, but while I was doing that I was into Killing Joke and Janes Addiction too. I was never allowed to play my music in the dressing room. I have always listened to everything. And the cool thing about working with all those guys ,from Butch Walker and so on its that they are all into all kinds of music. You assume that Dave Ellefson gonna be this metal head, but everybody is so aware of what everybody does and have so much respect for great musicians that I think there is just an appreciation for people who can play and do their thing. There is no more like "that's not real punk" and "death to false metal" attitude. Maybe it is if you're 19 or something but these guys were just ready to go.

Difference between being a solo artist vs being in a band?

I am a terrible collaborator and bandmate. I have learned that about myself. When I hear music and I am creating stuff I tend to hear everything at the same time so I kind of getting a lyrical melodic and rhythmical sense happening in my head and its a battle to getting it out and how quickly I can get everything in place, and when you try to write with me I assuming as another band member its really frustrating because if someone says "What if we try to do this" im like "Shut up!" and that's horrible by me but its just the way I function.

Truth to be told I always did exactly what I wanted to do anyway so that made me an asshole. I am more happy and confident now. I kind of know what I do and how I do it now and I also have been so fortunate to work with these guys who I love what they do and they seem to dig what I do.
I didn't have to tell those people what to play. I mean what do you tell Devin Townsend to play?
Why did you ask the guy to be on the record in the first place then?
And everyone seem to kind of got it. I'd love to do more of this.

Saigon Kick reunion?

We tried in 2013 / 20014. Did about four, five, up to seven shows together. It was nice being in a room not kill each other. But it was like seeing an old girlfriend after a long time and you go out to dinner the first night and you think "wow she's wonderful" and the next day she start doing those old things and you start to remember "that's why we are not together". I am sure they felt the same way about me and they probably have terrible things to say about me but I am not an angel. Its not for me but never say never because who knows what life throws at you but I have zero interest in this thing again, I mean I don't see Saigon Kick as an instrumental career thing, its not that we were Guns N Roses, we were not that big so no matter what I do going forward it will always be measured towards that. The funny thing is that a lot of those albums ended up on Prog metal playlists. Things I never was associated with and the whole demographic is like people who never knew Saigon Kick from anything are just now discovering the music which is cool, I never would have thought it would happen, but its finding its own little nische and it is what it is.

Which is the biggest Saigon Kick song?
"Love is on the way" was a top 10 record and number 1 on MTV . It turned platinum. It was never that big of a hit outside of the US. We came in such a weird time because we were never really accepted by the hairbands , not that we didn't like them or anything, it was never anything personal they just didn't take us under their wings and because we had those ballads on our records all the grunge bands hated us. So we got stuck in the same area that Kings X or Extreme, between two major shifts in music so I don't know if we ever found our home in terms of critical acceptance. But nowadays its like a badge of honour. I wasn't in a grunge band and wasn't in a hair band
Post Saigon Kick?
When I got the mail saying I had the opportunity to do an interview with you I started listening to your solo stuff on Spotify. That is so cool discovering new music.
The whole EP thing (talking about "Bird of prey" that i found really great) really came about four or five years ago. I decided that I didn't care about releasing anything commercially in any sense but I wanted to write so I set up this experiment that I was gonna write, mix, record and release a song in about 24 hours so I ended up putting up 150 songs on Bandcamp. Not the perfect mix, not the snare drum reverb exactly the way it should be. Just wanted to write and get better on writing. I forced myself to be within those parameters and eventually I got yelled at to put those stuff up on Spotify. It all came from a writing experiment more than any kind of conscious way to release music.
(to buy Jasons discography or selected songs and albums / go to https://jasonbieler.bandcamp.com/ )

Super Trans Atlantic?
After Saigon Kick I put a band together and got signed to MCA but moved to Universal. Then Pat Badger from Extreme joined on bass and we were asked to do some soundtrack work for the "American Pie" movie which was awesome. I have the gold record on the wall which has the pie with the hole in it. We did that for a bit, but I just had a family and wasn't ready to tour five years in a van pulling up next to a dumpster behind some club, that was not where either our heads were at so we let that go, but just this morning I was working with Pat on his new solo material so I am still being creative with Pat.
Are your record company you have together with your brother still active?

We haven't signed anything in the last few years because I am one of those people that need to be moved to the point where I feel that I have to tell the world that you have to hear this band. I haven't felt that way that much recently. But to work with bands like Skindred, Carnivore, SICK and Nonpoint and all those different bands was just an unbelievable experience, to help them develop their own careers. I am super proud of what we've done and who we worked with. We are long overdue signing new stuff but haven't done anything recently
When this interview was conducted Jason Slater recently died. Heres Jasons words on him.

We spent like a week together working on a few things with us for the label, he was helping us working with Slaves On Dope. He was such a talented guy and such a fan of the solo stuff he did but never saw the light of day. Just super sad, I don't know what happened and it's just so sad.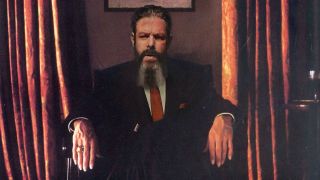 image credit: Jason Bieler